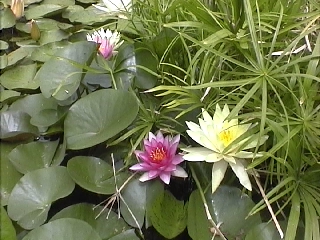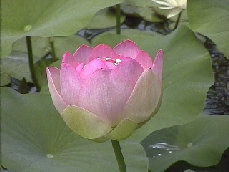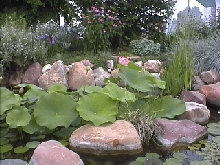 Hardy Lotus "Mrs. Perry Slocum" first day bloom
Hardy Water Lilies "Rembrandt" and "Texas Dawn"
Marginal plant: Umbrella Palm (not hardy)
One of the hardiest lotus, the "Mrs. Perry Slocum" does well in Colorado.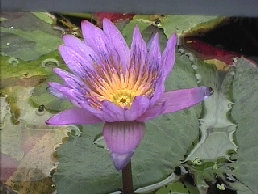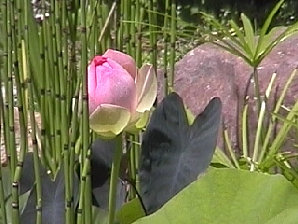 Tropical Water Lily
Not hardy in Colorado but spectacular and worth the yearly cost.
Left: Horse Tail Rush
Center: Lotus
Right Center: Black Taro (not hardy)
Right: Umbrella Palm (not hardy)
These are just a few of the aquatic plants that grow well in the Rocky Mountain Region because of our abundant sunshine and thin air. Many water plants are hardy in Colorado, water lilies, water iris, Louisianna Iris, horse tail rush, lizards tail and hornwort, just to name a few. When buying water plants be sure to ask if they are hardy to your area. Try to find a nursery that is knowledgeable about water gardening.

a P.R. Landscape Co.
303-678-5755
We design and build custom PONDS AND WATERFALLS All of our ponds are fully planted with waterlilies and other aquatic plants. We give each pond a jump start toward becoming a balanced ecosystem.
Published by "leashfree grafix"
Copyright (C) 2007